LEMON RASPBERRY PARFAITS
It's time to take advantage of nature's gorgeous jewels and this is the perfect light ending to a hot summer day.  Strawberries, blackberries, peaches, nectarines, cherries…anything fresh is wonderful in this.
This is another recipe where adding in a scoop or so of unflavored, or vanilla, protein powder would be wonderful…and unnoticable, too.  
(I got these adorable individual Trifle bowls at Walmart. Can't tell by my photo, but they have the pedestal and everything!!)
This photo is from Crate & Barrel…but same thing.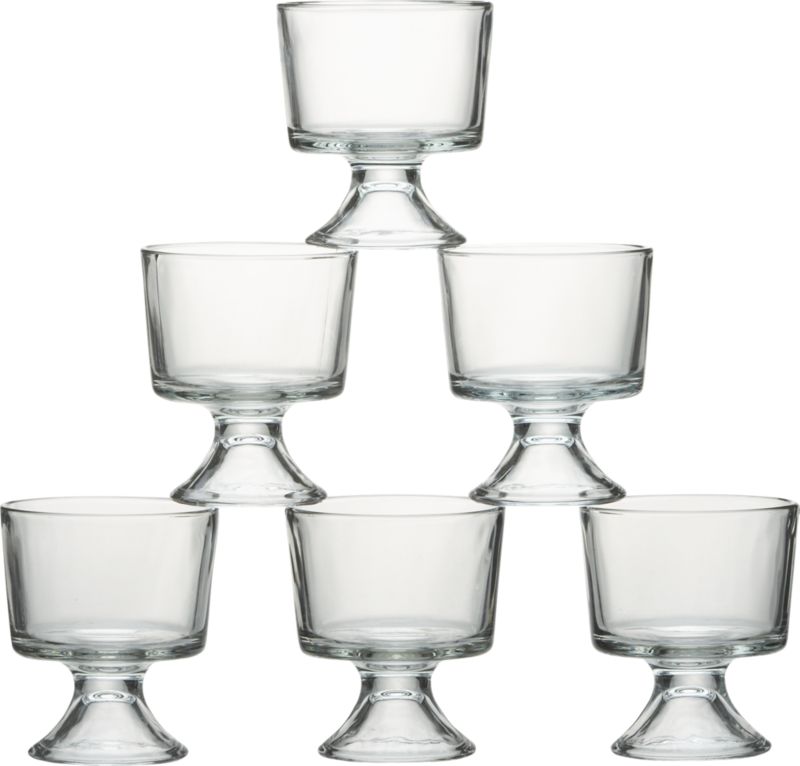 ~~~~
.
.
One 8-ounce pkg. fat free cream cheese, softened
2 cups skim milk
One 4-serving size sugar-free instant Lemon pudding mix
1/2 cup Splenda-sweetened whipped cream  (1/4 cup heavy cream with 1 teaspoon Splenda)
1/4 teaspoon vanilla extract
1 tablespoon Splenda
Zest of half a lemon
2 cups fresh raspberries ( or straw, black, blue…whatever is available)
3 kiwi, diced (peaches, nectarines, apricots, cherries…)
In a large bowl whip the cream cheese until smooth. Slowly add the milk until blended. Beat in pudding mix, vanilla, Splenda, and lemon zest. Allow to thicken and fold in whipped cream.
In 8 small dessert cups or glass, layer fruit and cream cheese mixture, dividing ingredients evenly among them. Garnish with additional fruit and lemon zest, if desired. Chill for 1-2 hours. Makes 8 servings.
Per Serving: Calories 112; Protein 6 g; Fat 2 g; NET Carbs 12 g; (Fiber 3 g); Sugar 3 g; Sodium 319 mg